Download FREE Game Trial
Buy it for only $6.99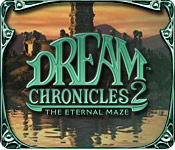 Rating: 4.5/5
Adventure, mystery, puzzles and fairies! This game sets your brain thinking and is simply entertaining with its breathtakingly smooth graphics and apt music. In this second installation of the Dream Chronicles series, you have to help Faye save her family from the evil Fairy Queen, Lilith. The storyline, together with the game play makes it an alluring sequel.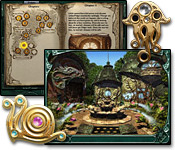 Story
The evil Fairy queen, Lilith, wants Faye's husband all to herself as he was promised to her long ago. As a result, Lilith curses Faye's daughter and imprisons her within the Ancient Place. To save her family Faye needs to escape from her prison by navigating through magical landscapes and solve intricate and challenging puzzles; with the guidance of her mother-in-law.
Game Play
This game is definitely more than just your usual hidden game object. Its adventure styled game play and mesmerizing graphics makes it more fun. With its smooth game play, and the freedom to play at your own speed, finding hidden dream jewels to unravel secrets that would help in the quest and unlocking secret doors is challenging. The game starts off in an easy to follow story mode, continuing off from the first installment; with the story getting more intriguing as you play.
Graphics
The graphics are simply beautiful, drawing players into the breath taking world of fairies with intriguing and believable drawn sets.
Sound
Music used in the game adds to the ambiance of the game. It makes the game more fun to play, and it is easy on the ears; making game play an enjoyable experience.
Creativity and Innovation
Compared to the puzzles in its prequel, puzzles in
The Dream Chronicles 2: The Eternal Maze
is definitely more challenging. Unlike usual hidden object games, the way in which
The Dream Chronicles 2: The Eternal Maze
incorporates the storyline with the hidden object theme, and solving puzzles is seamless and engaging. It is definitely innovative and creative, and worth playing.
YOU SHOULD BUY THE DREAM CHRONICLES: THE ETERNAL MAZE IF
- You loved playing its prequel
The Dream Chronicles: The Chosen One
.
- You like playing challenging and fun puzzle games that are engaging, and yet not frustrating.
- You are looking for a game other than the usual hidden object/puzzle games with a twist, with beautiful graphics, smooth game play and an interesting storyline.
YOU SHOULD NOT BUY THE DREAM CHRONICLES: THE ETERNAL MAZE IF
- The storyline of the Dream Chronicles or things about fairies does not appeal to you.
- You are looking for a fast paced adventure game.
- You have not played the first installment
The Dream Chronicles: The Chosen One
Download FREE Game Trial
Buy it for only $6.99